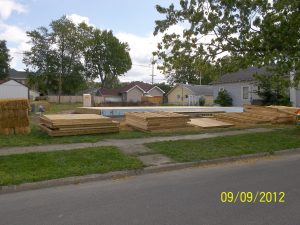 Habitat for Humanity of Danville's (HfD) newest partner is Kimberly Bryant. Kimberly, 33, is a Danville native who graduated from DHS. She has two sons: eleven year-old Spurgeon and two year-old Trenton. Ms. Bryant is a phlebotomist for Carle Clinic. She is a member of the New Jerusalem Church where she enjoys choir and devotional study. Her home is being built on the lot at 1109 Robinson Street. This is the fiftieth home built by HfD; we call it our "fifty for fifty" in that financial support is targeted by way of fifty donations of one thousand dollars. We incorporated a celebration of the September 11 attacks by inviting local first responders – police, firemen, EMTs and National Guardsmen – into a 'blitz build' where walls, trusses, and roof decking were constructed in one day.  Newspaper coverage was provided by the Commercial-News and the News-Gazette.
Kimberly discusses home ownership with John Graves and Jillian Deem, WCIA journalist.
Mike Cundiff, construction supervisor, describes strategy and tactics for the Patriot's Day blitz build.
Time lapse pictures